Hao Peng, Party Secretary of Party Committee of SASAC and his Team Visited CBL Beijing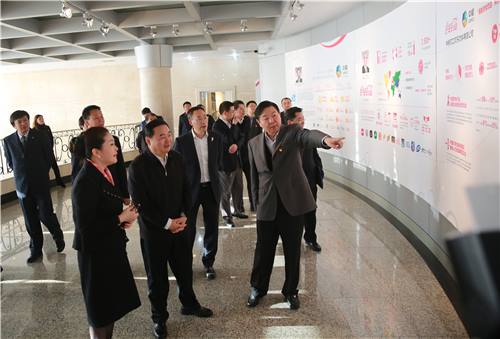 On November 2, 2017, Hao Peng, the Party Secretary of Party Committee of SASAC and his team went to the Beijing factory for research and guidance. Zhao Shuanglian, the party secretary of the Party Leading Group, Chairman of COFCO, Patrick Yu, deputy party secretary of the Party Leading Group, President of COFCO accompanied.
Hao Peng visited the corridor over production line of CBL Beijing, Coca-Cola world and other regions to understand the production and operation of CBL Beijing and the construction of the brand.
During the visit to the Party-masses construction education center, Party members learning activities were carried out in by CBL Beijing branch. Hao Peng listened to sharing of some employees on learning the spirit of the 19th CPC National Congress and made an important speech. He pointed out that the nineteen-ninth National Congress of the Communist Party of China is of great significance in the history of Chinas development and in the history of the Partys development. He required CBL to be firmly consistent with the Party Central Committee with Comrade Xi Jinping as the core, the Partys leadership and the improvement of corporate governance will be strengthened effectively; the deepening reform will continue to inspire the vitality and the core competitiveness of the enterprise, not forget the initial mind and remember the mission, assisting COFCO to become a sound and strong world-class enterprise to increase the honor of China. On behalf of COFCO, Zhao Shuanglian thanked Hao Peng for his visiting and guidance, providing coaching on the spirit of 19th National Congress. Meanwhile, he said that COFCO and specialized companies would seriously organize learning about the spirit of the Partys nineteenth National Congress and find the position in the operation of the enterprise, clear the direction, do the best, making a greater contribution to the national peoples livelihood.
Luan Xiuju, president of CBL and Zhan Zaizhong, GM of CBL Beijing also joined the visiting.