Zhao Shuanglian visited CBL Chongqing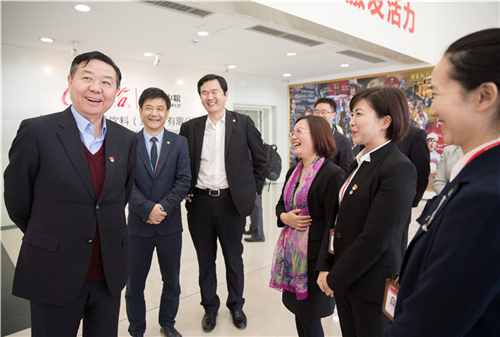 On Nov. 13, Zhao Shuanglian, the party secretary of the Party Leading Group, Chairman of COFCO, visited CBL Chongqing to view the production workshop, enterprise culture corridor, party construction activity center, Coca-Cola museum, etc., conducting a in-depth research on the historical evolution of CBL Chongqing, the production and operation and the construction of the grass-roots party administration, and giving guidance to the party construction of the factory.
Zhao Dong listened to the overall operation report of CBL Chongqing Factory from January to September 2017, and carefully asked the reasons why CBL Chongqing had achieved such achievements in team integration, business expansion and performance since it joined the large family of COFCO in April. In order to improve the efficiency and benefit of the enterprise, he required CBL Chongqing to study and implement the spirit of the CPC 19th National Congress, pursue innovation and leading position, improve the efficiency and effectiveness of the enterprise, and achieve better results in the current good development momentum.
Liu Yun, Deputy Director of the office, COFCO, Deputy Head of Party-massed Working Department, Luan Xiuju, President of CBL, He Hui, GM of CBL HR, and GM of CBL Chongqing attended the meeting.